Variplast started its business four decades ago. It developed from a family business as a craft shop with three workers in its early stages. Since its foundation in 1983 until today, Variplast Ltd. has gained a reputation of a reliable partner for production of flexible packaging for different industries, from car industry, wood industry, agriculture, chemical industry, architecture to food industry.
Since its foundations until today, this company marks a steday growth of production thanks to continued modernisation of its production capacities with the production of around 3,000 tons annually and 100 employees. In order for us to get closer to our customers and meet their needs, our system and the production are under the constant process of improvement and expansion.
Taking into consideration our long-term presence on the market, VARIPLAST Ltd. gained a reputation of a desirable partner which meets the needs of their clients in terms of quality, quantity, delivery and realiability, subsequently taking special care of the environment.
---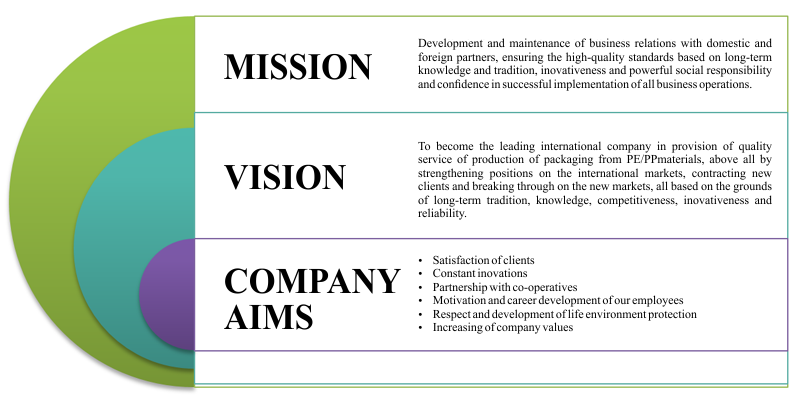 MISSION
Development and maintenance of business relations with domestic and foreign partners, ensuring the high-quality standards based on long-term knowledge and tradition, inovativeness and powerful social responsibility and confidence in successful implementation of all business operations.
VISION
To become the leading international company in provision of quality service of production of packaging from PE/PPmaterials, above all by strengthening positions on the international markets, contracting new clients and breaking through on the new markets, all based on the grounds of long-term tradition, knowledge, competitiveness, inovativeness and reliability.
COMPANY AIMS
- Satisfaction of clients - Constant inovations - Partnership with co-operatives - Motivation and career development of our employees - Respect and development of life environment protection - Increasing of company values
---
MANAGEMENT SYSTEM AND QUALITY CONTROL
Being aware that our clients more and more pay attention to the quality and require from us more to satisfy the highest quality demands on the market, Variplast Ltd. has already in 2009 adopted quality management system ISO 9001:2008.
Orienting to the client, quality leadership, engagement of all employees, systematic approach to management and constant improvement which is used to the maximum in its daily business, are only some of the marks how Variplast Ltd. is the leading company in production of flexible packaging.
Variplast Ltd. aims to improve the satisfaction of their clients by application of quality management system ISO 9001:2015, by introduction of the improvement system processes and ensurance of compliance to the demands of clients, legislation and requests. Quality management system ISO 9001:2015 includes activities by which organisation identifies its aims and determines processes and resources which are necessary to achieve the required result.
Osnovni principi upravljanja kvalitetom su:
Focusing on the client;
Leadership;
Engagement of people;
Process approach;
Improvement;
Evidence-based decision making;
Relationship management.